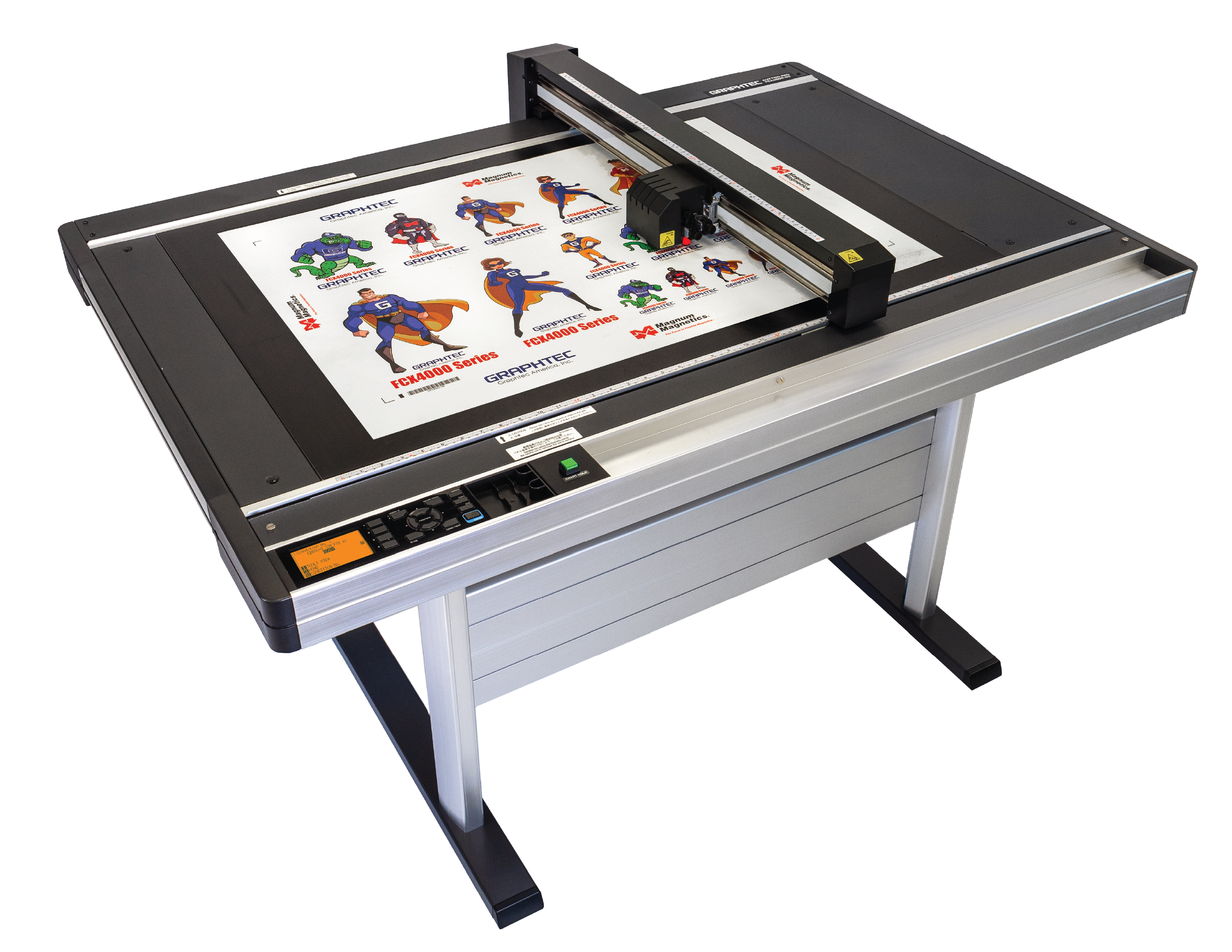 Graphtec FCX4000 Cutter
Discover unparalleled cutting precision and enhanced productivity with the Graphtec FCX4000 Series. Engineered to deliver top-notch quality and accuracy, this series redefines the flatbed cutting plotter experience. Whether you're in the print-on-demand industry or seeking an efficient crafting solution, the FCX4000 Series is your gateway to exceptional results.
Email Quote
Call for Quote
Introducing Graphtec FCX4000 Series Flatbed Cutting Plotters
Elevate Productivity:

Experience quality like never before by enhancing the rigidity of the sliding mechanism and driving system. The FCX4000 Series achieves high-quality cutting, making it the ideal solution for a range of industries.
Affordable Excellence:

The FCX4000 Series presents an affordable cutting solution for small to medium print-on-demand jobs. With its electrostatic media hold-down feature, it ensures precision and accuracy while eliminating media slipping.
Multiple Sheet Processing:

The 60ES model can efficiently accommodate four A3+ sheets, making it a productivity powerhouse. Explore high productivity and seamless performance with the FCX4000 Series.
Versatile Crafting and Cutting Precision
Material Processing:

From vinyl to photo-masking films, foam material, cardboard, oil board, and sandblast resist rubber, the FCX4000 Series processes a wide range of materials. This series is suitable for PET, Polyamide, Stiff paper, Cardboard, Microflute board, and various industrial materials.
Precision Cutting:

With adjustable cut pressure up to 600 gf, the FCX4000 Series offers precise crafting of intricate designs on diverse materials. Experience the perfect blend of precision and versatility.
Advanced Features for Creative Freedom
Dual Head Configuration:

The FCX4000 Series comes standard with a dual head configuration, enabling you to load pens, cutting tools, and creasing tools simultaneously. This feature enhances efficiency and creativity.
Reverse Creasing Function:

The series introduces a new reverse creasing function that aligns and creases the reverse side of printed card stock. This prevents traces of the creasing operation from appearing on the printed surface, ensuring flawless results.
Expanded Contour Cutting:

With expanded contour cutting capabilities, the FCX4000 Series includes objects outside registration marks. This feature maximizes production efficiency while minimizing media waste.
Barcode Functionality:

The FCX4000 Series simplifies data management with its barcode functionality. Automatically select cutting data from a prepared USB flash memory by scanning the barcode, streamlining the workflow and minimizing errors.
The Graphtec FCX4000 Series offers a seamless blend of cutting precision and creativity. Whether you're in the printing, packaging, fashion, or architectural industries, this series empowers you to craft intricate designs with unmatched accuracy. Elevate your productivity and creative potential with the FCX4000 Series and experience the next level of precision cutting technology.
Cutter Model: Graphtec CE7000 Cutter
Contact Us For Pricing
View Details PDF