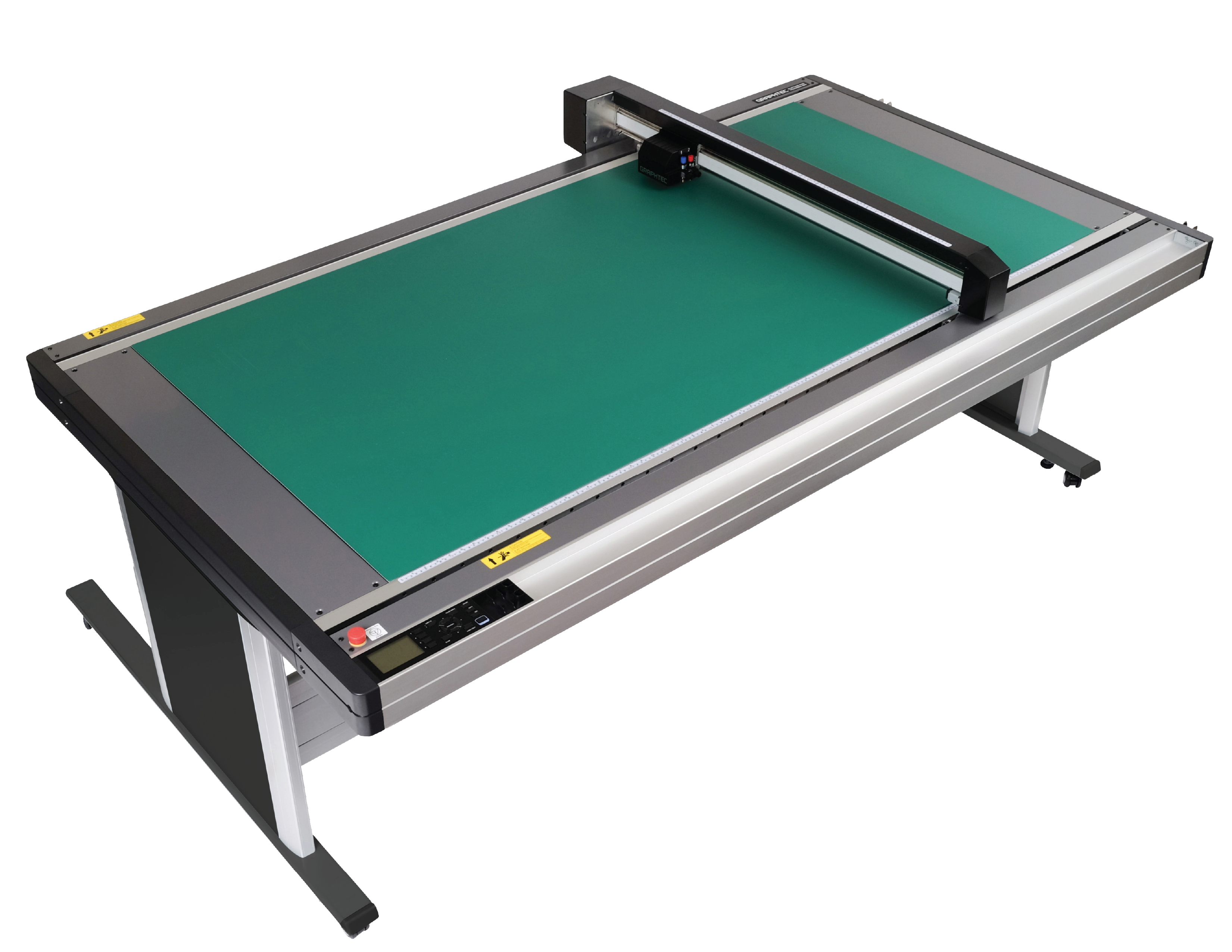 Graphtec FCX2000 Cutter
Unleash the power of precision and efficiency with Graphtec's FCX2000 Series medium to large flatbed cutting plotters. Engineered to perfection, this series is the ultimate solution for package prototyping and short production runs of rigid materials. By eliminating the need for cutting dies, it offers a seamless and efficient way to transform your creative ideas into reality.
Email Quote
Call for Quote
Introducing the Graphtec FCX2000 Series Flatbed Cutting Plotters
Unmatched Efficiency:

With dedicated software for contour cutting, the FCX2000 Series drastically reduces media waste and processing time. Whether you're in the wide-format signage industry, apparel, or automotive markets, this series empowers you to create custom orders at low cost with short delivery times.
Precision Redefined:

The FCX2000 Series features a redesigned Y bar and cutting table, ensuring high-precision cutting and creasing. Experience the perfect blend of precision and efficiency, delivering professional-grade results every time.
Dual Head Powerhouse:

Equipped with dual heads, the FCX2000 Series boasts 500G and 1000G of force, allowing you to work with diverse materials at speeds up to 400mm/s. From delicate Rubylith to robust Chipboard, it handles it all with ease.
A Seamless Workflow for Versatile Applications
Offline USB Operation:

Experience hassle-free operation with Offline USB functionality. Even with minimal experience, you can operate the machine directly without a computer. Simply insert a USB thumb drive, select the file from the user-friendly 3.7-inch Graphic LCD screen, and watch your designs come to life.
ARMS Technology:

Graphtec's renowned Advanced Registration Mark Sensing (ARMS) technology empowers you to accurately contour cut pre-printed graphics with ease. Auto-scanning of four-point registration marks compensates for distortion in both X & Y directions, ensuring precise cutting.
Intuitive Software:

Graphtec's Cutting Master 4 plug-in for Adobe Illustrator and CorelDRAW is your gateway to precision. Add registration marks, create large designs, and add weed lines effortlessly. Elevate your designs with Graphtec Pro Studio software, offering extensive design tools and file format compatibility.
Enhanced Features for Unmatched Convenience
Enhanced Suction Power:

The FCX2000 Series takes media hold-down to the next level with improved distance between holes, resulting in stronger suction power to hold heavier and thicker media securely.
Intuitive LCD Control:

A 3.7-inch LCD screen coupled with a tactile control panel simplifies onboard control and settings, ensuring intuitive operation and easy adjustments.
Emergency Safety:

Safety is paramount, which is why the FCX2000 Series includes a dedicated emergency STOP switch, enhancing the overall safety of your operation.
Seamless Media Handling:

The FCX2000 Series comes equipped with a mounted roll-media stocker, supporting media width up to 37.4" and weight up to 11 lbs, providing flexibility in your media handling.
The Graphtec FCX2000 Series flatbed cutting plotters redefine precision and efficiency. From its dual head design to offline USB operation, advanced software, and enhanced features, this series transforms package prototyping and short production runs into a streamlined and creative process. Connect with the power of Graphtec and elevate your production capabilities.
Cutter Model: Graphtec CE7000 Cutter
Contact Us For Pricing
View Details PDF