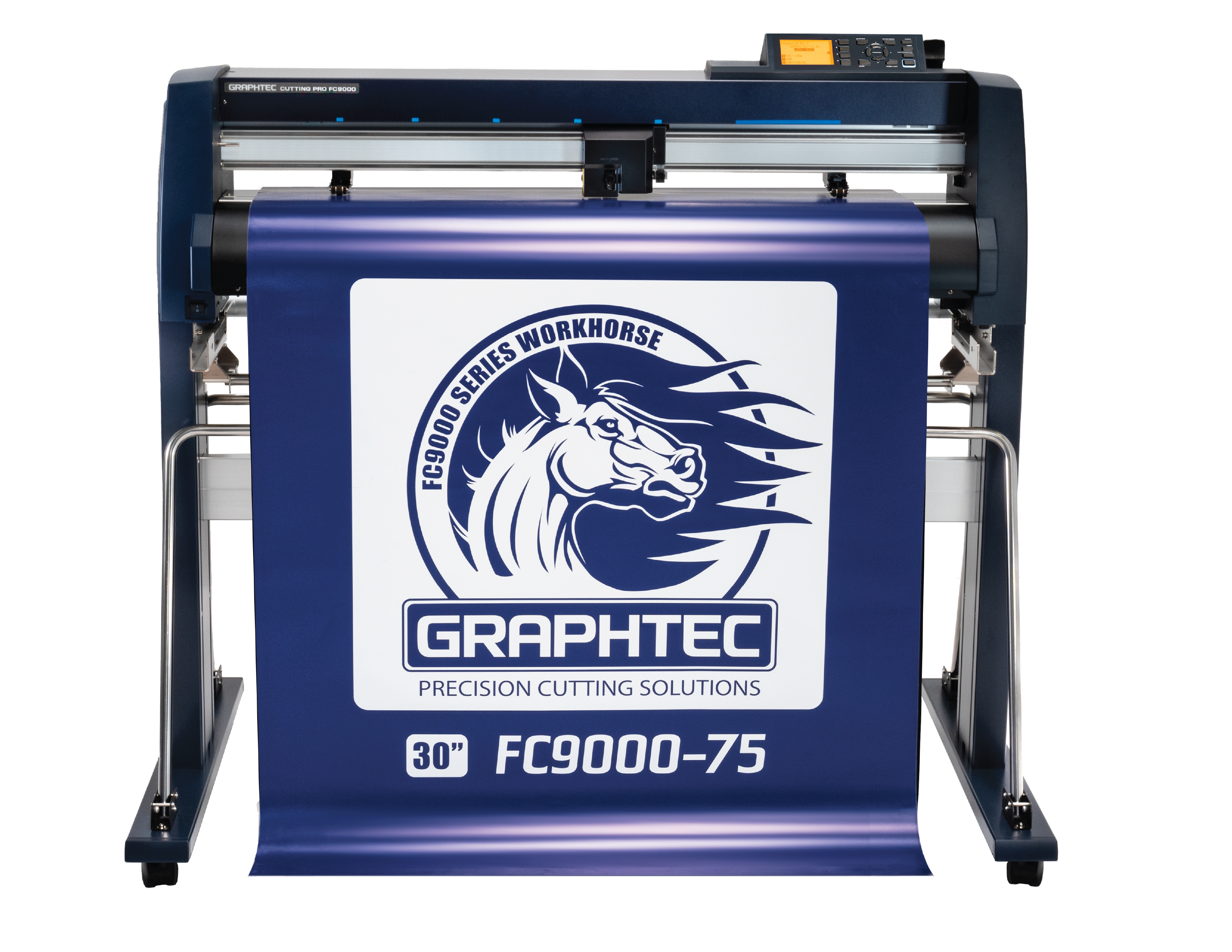 Graphtec FC9000 Cutter
Discover Graphtec's pinnacle of roll-fed cutting technology - the FC9000 Series. This cutting-edge series stands as a testament to Graphtec's commitment to innovation and excellence in the field of cutting plotters. Renowned worldwide for its reliability and high-precision capabilities on a diverse range of materials, the FC9000 Series redefines the standards of roll-fed cutting.
Email Quote
Call for Quote
Introducing Graphtec FC9000 Series - Unrivaled Precision and Versatility
Dependable Precision Cutting:
Experience the epitome of precision with Graphtec's FC9000 Series. This flagship line-up boasts impeccable cutting accuracy on both printed and unprinted materials. Whether you're working with intricate designs or large-format graphics, the FC Series guarantees dependable and flawless results every time, making it the ultimate finishing solution for industries such as wide-format signage, apparel, and automotive applications.
Enhanced Cutting Quality:

The FC9000 Series introduces a revolutionary feeding system and cutting head, elevating cutting quality to new heights. From delicate window tint to high-intensity reflective materials, the FC Series handles a wide spectrum of materials with finesse and perfection. Thin or thick, intricate or straightforward - the FC9000 Series delivers uncompromising cutting precision across the board.
Unleash Versatility with the FC9000 Series Applications
A World of Possibilities:

Unlock boundless creative potential with the highly versatile FC9000 Series. This cutting-edge line-up empowers your capabilities, enabling you to explore various applications that span industries and materials. Whether you're in the wide-format signage business, apparel design, or automotive sector, the FC9000 Series adapts seamlessly to your needs, becoming an indispensable tool in your workflow.
Wide-Format Signage:

In the world of wide-format signage, precision and quality matter. The FC9000 Series ensures that your signage projects stand out with impeccable accuracy and consistency. From intricate lettering to complex graphics, achieve professional-grade results that captivate viewers.
Apparel Innovation:

Bring your apparel designs to life with the FC9000 Series. Create intricate patterns, logos, and graphics with confidence, knowing that the FC Series delivers precision cutting that enhances your apparel pieces, whether you're working with delicate fabrics or robust materials.
Automotive Excellence:

The automotive industry demands perfection in every detail. With the FC9000 Series, achieve the precision required for applications like window tinting, vehicle graphics, and interior designs. Experience cutting-edge technology that meets the high standards of the automotive sector.
ARMS 8.0 and Enhanced Efficiency
Efficiency Redefined:

Experience enhanced efficiency with the FC9000 Series, now powered by ARMS 8.0. Graphtec's Advanced Registration Mark Sensing system streamlines job loading and processing automatically. The innovative Datalink Barcode System simplifies your workflow, ensuring swift and accurate cutting operations, boosting the efficiency and productivity of the FC Series.
The Graphtec FC9000 Series represents the epitome of precision and versatility in roll-fed cutting plotters. With its cutting-edge technology, it caters to diverse applications across industries, from wide-format signage to apparel and automotive design. Elevate your capabilities, enhance your efficiency, and embrace the future of cutting with the FC9000 Series.
Cutter Model: Graphtec FC9000 Cutter
Contact Us For Pricing
View Details PDF