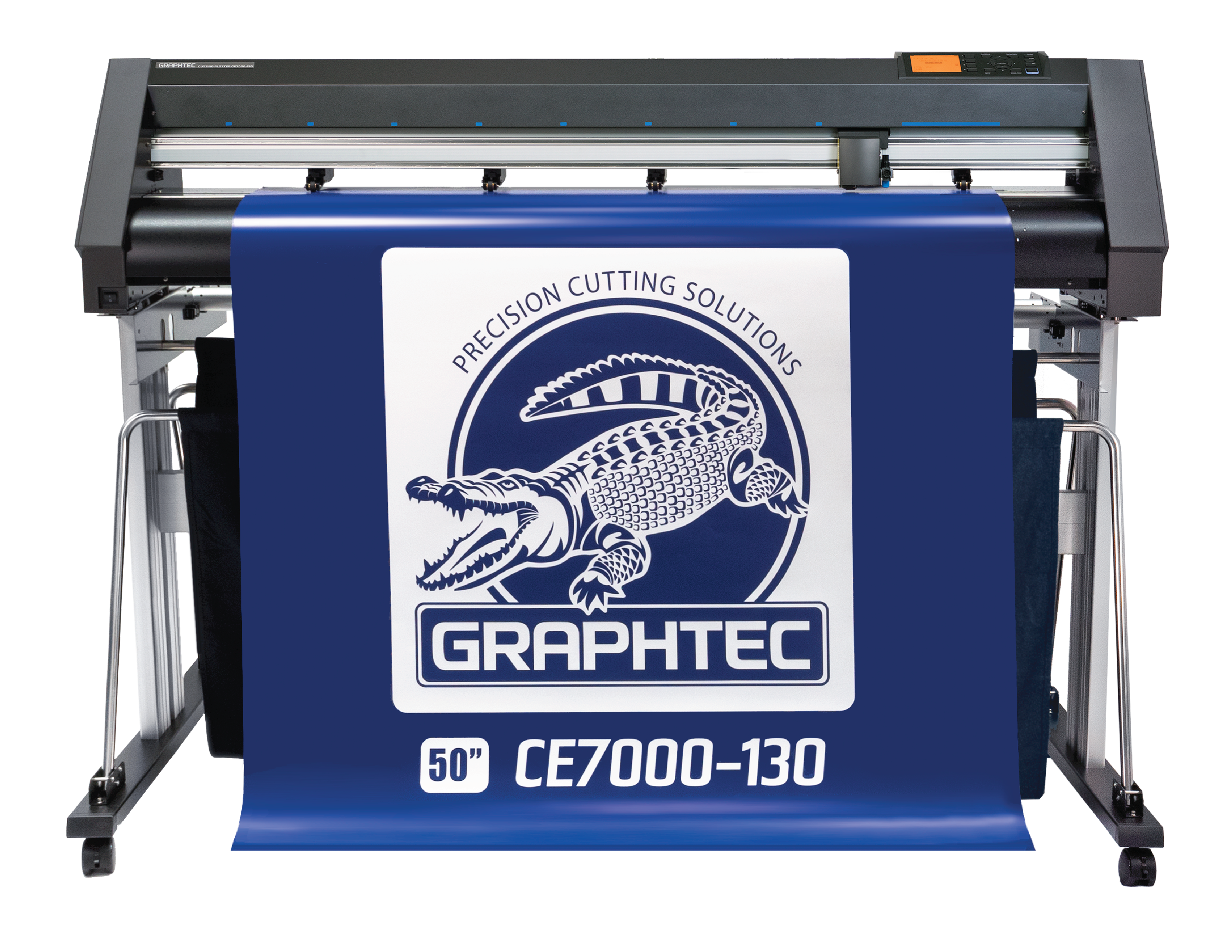 Graphtec CE7000 Cutter
Elevate your production capabilities with the Graphtec CE7000 Series cutting plotter - a powerful solution designed to optimize efficiency across various industries including signage graphics, print & cut graphics, pop & packaging, automotive markets, and beyond.
Email Quote
Call for Quote
Unleash Productivity with Graphtec CE7000 Series Cutting Plotter
Precision and Efficiency:

The CE7000 Series features the innovative 8.0 ARMS (Advanced Registration Mark Sensing) technology, ensuring swift and accurate print & cut applications. Say goodbye to manual adjustments and welcome a new era of precision.
Maximize Productivity:

Introducing the DATALINK Bar Code Feature - your key to maximum productivity. Save time and reduce errors by automating job processing with barcode integration. Seamlessly integrate any combination of RIP software & printer to streamline your workflow.
USB Thumb Drive Connectivity:

No computer, no problem. The CE7000 Series introduces NEW USB Thumb Drive Connectivity, allowing you to upload and cut jobs directly from a thumb drive. Embrace the convenience of hands-free operation.
Versatile Cutting Capabilities
Perforated Cut or Through Cut:

The CE7000 Series empowers you with its cutting channel feature, facilitating both perforated cut and through cut operations. Effortlessly create decals and graphics that pop out of sheet and roll media, ensuring the longevity of your blades and cutting strip.
Contour & Die Cut:

Separate tool positions for contour and die cutting guarantee precision and durability. Create stunning decals and graphics with ease, achieving flawless results that stand out.
Enhanced Features for Unmatched Convenience
ARMS 8.0 for Enhanced Accuracy:

The CE7000 Series introduces ARMS 8.0 - an advanced Registration Mark Sensing System. Witness faster and more accurate reading of registration marks, resulting in heightened productivity for your print and cut applications.
Network Connectivity:

Embrace the power of connectivity with the CE7000 Series. The inclusion of a network interface enables seamless transfer of cut data using TCP/IP protocols. Streamline your operations and experience the benefits of network integration.
USB Offline Operation:

A new dimension of flexibility awaits with the secondary USB port. Upload and cut jobs directly from a thumb drive without the need for a computer. Whether utilizing the barcode function or selecting files directly, enjoy a streamlined workflow.
The Graphtec CE7000 Series cutting plotter revolutionizes productivity and precision. With advanced features like DATALINK Barcode, ARMS 8.0, and versatile cutting capabilities, this series ensures optimal efficiency across various applications. Say goodbye to manual complexities and embrace the future of cutting with Graphtec. Connect with your Graphtec Authorized Reseller today to elevate your productivity to new heights.
Cutter Model: Graphtec CE7000 Cutter
Contact Us For Pricing
View Details PDF