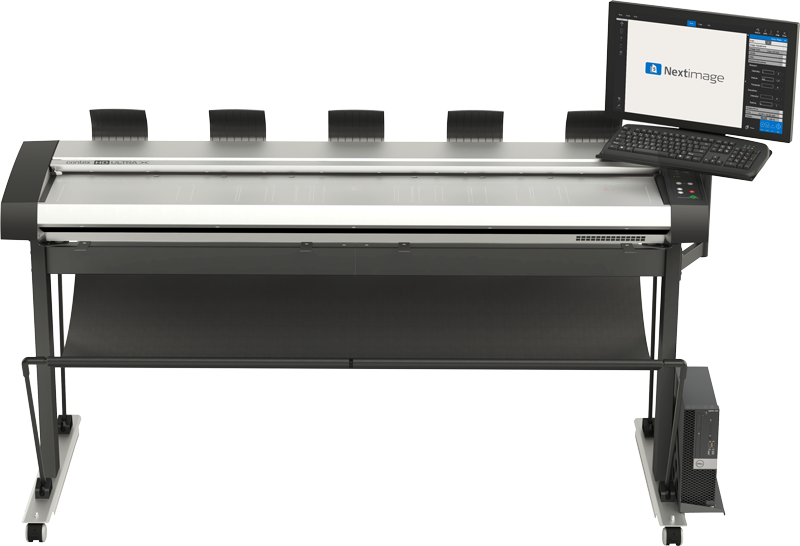 Contex HD Ultra X
Welcome to the future of scanning with HD Ultra X – the new gold standard in large format scanning. Crafted to cater to the demands of technical experts, graphical professionals, archivists, and repro departments, this scanner redefines precision and efficiency. Whether you're preserving maps, drawings, posters, newspapers, or fine art, HD Ultra X ensures that every intricate detail is captured exactly as you envision it.
Email Quote
Call for Quote
Introducing HD Ultra X Large Format Scanners
Available in 36 inches, 42 inches, and 60 inches


Unmatched Efficiency and Adaptability
Unleash Speed and Flexibility:

With an impressive top speed of 17.8 inches per second (ips) and unparalleled size flexibility, HD Ultra X revolutionizes your workflow by saving you invaluable time.
Customize to Your Workflow:

HD Ultra X is designed to adapt seamlessly to virtually any workflow, ensuring that your scanning process aligns perfectly with your requirements.
Unrivaled Image Quality:

Elevate your scans with market-leading image quality powered by CCD technology and 48-bit RAW data capture, guaranteeing that every scan is a masterpiece.
Discover the HD Ultra X Advantage
Innovative Lenses:

Contex CCD scanners, equipped with premium Fujifilm lenses, deliver high-resolution images that set a new standard for quality in the market.
Instant-ON Feature:

Save time by eliminating warm-up periods – start scanning instantly with HD Ultra X's cutting-edge Instant-ON feature.
True Size Detection:

HD Ultra X simplifies your workflow by automatically detecting paper width as it scans, ensuring accurate results without manual adjustments.
Optimal Thickness Adjustment Control:

With the Optimal Thickness Adjustment Control (OTAC), adapt the scanner to different original thicknesses with utmost ease and precision.
Speed Tailored to You:

Tailor your scanning speed with three distinct levels at your fingertips via the intuitive touch panel. Easily adjust the scanner to your workflow and original requirements.
Versatile Powerhouse:

Whether you're in a high-pace environment or require top-tier quality scans, the HD Ultra X series caters to your needs. Ideal for copy shops that thrive on delivering excellence quickly, it's a scanner that knows no limits.
Elevate Your Scanning Game:

Experience scanning reimagined with the HD Ultra X 6000 – the pinnacle of large format scanners.
Innovate your scanning experience today with HD Ultra X. Unlock efficiency, precision, and adaptability like never before. Get a quote for HD Ultra X 6000, the trailblazing large format scanner that sets new industry benchmarks.
Scanner Model: Contex HD Ultra X Scanner
Contact Us For Pricing
View Details PDF