Contex HD Ultra Large Format Scanner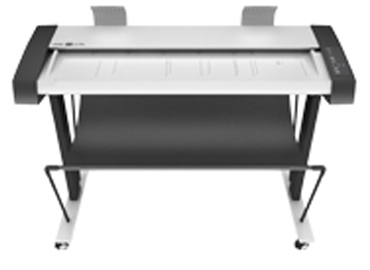 Designed to meet the needs of high-productivity archiving teams, scanning professionals and reprographics departments, the HD Ultra is simply the best large format scanner available. Combine the HD Ultra with our awarded Nextimage software including SnapScan to scan – enhance – save.

ScanStation version available, for a perfect working station to build your high-volume digital archive in no time.

Scan your documents three times faster and enhance the file in AutoCAD, ESRI and other document workflows
The new HD Ultra delivers the best quality image in the world today. No matter whether you scan maps, drawings, posters or fine art, you'll always capture every detail, on the first try. Designed to meet the needs of technical experts, graphic professionals and reprographics departments, the new HD Ultra is simply the best large format scanner available.

36 inch or 42 inch scanner
Choose between 36 or 42 inches width, each in three different configurations to fit your needs for productivity and image quality. A space-saving MFP version is also available.

The ultimate standard for your digitizing needs
With Contex-enhanced CCD imaging, archiving and productivity-boosting features, you get best-in-class image quality and the fastest and most efficient way to scan, copy, file and archive wide format images, drawings, documents and records.

Accelerates workflows
The new HD Ultra is built for productivity, and the key to productivity for high-volume applications is speed. Not just "inches per second" but actual throughput. Able to scan three times as many documents in a day as any other scanner and designed to improve document management, the new HD Ultra is all about helping you win projects, boost productivity and lower costs.

Fits in your digital workflow
Compatible with AutoCAD®, ESRI® and other software and printers like HP, Canon, Epson etc., the new HD Ultra is astonishingly versatile. Automated paper thickness control, intelligent document size detection, and the ability to handle challenging documents effortlessly mean you can just keep scanning, boosting productivity, winning new business, and ensuring a fast return on your investment.

• = Included º = Upgradable
 
HD Ultra i3610s
HD Ultra i4210s
HD Ultra i3650s
HD Ultra i4250s
HD Ultra i3690s
HD Ultra i4290s
Width
36 inch (914 mm)
42 inch (1067mm)
36 inch (914 mm)
42 inch (1067mm)
36 inch (914 mm)
42 inch (1067mm)
Upgradable to 42 inch scan width
º
•
º
•
º
•
Working height 1)
36.3 / 37.3 / 38.3 inch (922 / 947 / 972 mm)
Scanning Speed* (inch/sec.): Scanner speed while scanning 36-inch wide document.
200 dpi RGB Color
-
4,0
8,0
Upgradable to 4.0 inch/sec color
º
•
•
Upgradable to 8.0 inch/sec color
º
º
•
200 dpi Grayscale / Monochrome
12.0
12.0
12.0
Productivity* (documents/hour): Batch scanning for 60 minutes. Includes paper load and eject time. Measured in completed scans.
Arch E-size, RGB Color,
200 dpi
-
261
422
Arch E-size, Monochrome, 200 dpi
620
620
620
A0-size, RGB Color, 200dpi
-
307
461
A0-size, Monochrome, 200dpi
642
642
642
Maximum Media Width
44 inch (1120 mm)
44 inch (1120 mm)
44 inch (1120 mm)
Optical Resolution
1200 dpi
1200 dpi
1200 dpi
Maximum Resolution
9600 dpi
9600 dpi
9600 dpi
Total number of Pixels
213600 pixels
213600 pixels
213600 pixels
CCD Cameras
5 x 4 liniar color CCD's
(R,G,B and Gray)
5 x 4 liniar color CCD's
(R,G,B and Gray)
5 x 4 liniar color CCD's
(R,G,B and Gray)
Maximum Media Thickness
0.6 inch (15 mm)
0.6 inch (15 mm)
0.6 inch (15 mm)
Accuracy
0.1% +/- 1 pixel
0.1% +/- 1 pixel
0.1% +/- 1 pixel
Data Capture (color/mono)
- / 16-bit
48-bit / 16-bit
48-bit / 16-bit
Full 48-bit Data Workflow**
º
48-bit / 48-bit / 48-bit / 48-bit
48-bit / 48-bit / 48-bit / 48-bit
Color Space
Adobe RGB / Device RGB / RAW RGB / sRGB
Adobe RGB / Device RGB / RAW RGB / sRGB
Adobe RGB / Device RGB / RAW RGB / sRGB
USB with xDTR
•
•
•
Gigabit Ethernet with xDTR2
•
•
•
Network workflow
Pull / Push
Pull / Push
Pull / Push
FlexDoc
•
•
•
FlexFeed
•
•
•
SnapSize
•
•
•
SmartShare
•
•
•
ALE
•
•
•
AccuColor
•
•
•
ENERGY STAR Certified
•
•
•
Software***
AutoCAD®, MicrostationTM, ArcGISTM and all other CAD, GIS and other image editing / storage applications
Fileformats****
TIF, JPG, PDF, DWF, CALS, BMP, JPEG-2000(JP2), JPEG2000 Extended(JPX), TIF-G3, TIF-G4, others
Device Drivers
32 and 64-bit Windows 8, 7 and Vista
Nextimage
TWAIN 32-bit TWAIN application driver included for use with EDM and other imaging software
Power Requirements
100 - 240V, 60/50Hz, 80W
Weight & Dimensions
48 kg, LxWxH: 52.8 x 18.7 x 7.9 inches (134 x 47.5 x 20 cm)
Certifications/compliance
RoHS, cUL, CE, COSTUMS-UNION, CCC, VCCI, KC, Ukr, ENERGY STAR Certified

1) Requires optional scanner stand
* Scanning speeds depend on document width and computer configuration
Contex recommends Intel Core Duo, Core 2 Duo, or better processors, 2GB RAM, Hi-speed USB2.
Speed tests performed using Nextimage software, PC with Intel Core i5-2500 Quad processor, 8GB RAM, Hi-speed USB2, 7200rpm HDD, Windows 7 64-bit Ultimate.
** Bit depth for: Data Capture / Scanner Processing / PC Processing / Image File. Create a optional 48-bit TIFF image
*** Contex applications create industry standard raster file formats that can be used in any CAD or GIS application
**** Requires optional Nextimage software

All trademarks remain the property of their respective holders, and are used only to directly describe the product being provided.
Their use in no way indicates any relationship between Contex A/S and the holders of the mentioned trademarks.
Printer Model: Contex HD Ultra
Contact Us For Pricing
View Details PDF
"Keep your companies projects on time, all the time with A&A Graphics 100% Printer Uptime Guarantee"
100% Uptime Guarantee
—Purchase any plotter from A&A Graphics and keep it under our warranty. If for any reason we are unable to repair the issue in 8 business hours we will do all your printing, copying & scanning for free until the issue is resolved to the manufacturer's specifications for performance.
The only time a printer breaks is when it is needed the most. As a project manager or business owner you can rest a little easier knowing your bids and projects will not be stalled or delayed by printer downtime. A&A Graphics employs 5 factory trained specialists offering same day support in most cases in the Greater Houston Area. HP, KIP, OCE, GRAPHTEC, XEROX all current models and legacy printers supported. We also have an extensive large wide format printer used parts inventory to assist you with any future repairs you may need.