Contex IQ Quattro 2490 Large Format Scanner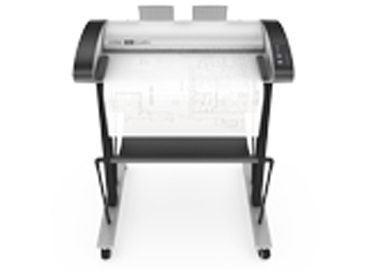 IQ Quattro 2490 scanners are ideal for technical documents. Share through cloud solution.
Faster:
Spend less time scanning and instead focus on what matters to you. Scan small and large documents up to A1/D-size.
Smarter:
IQ Quattro is networked with your entire workgroup and Cloud enabled so anybody in your project team can use it from their smartphone. IQ Quattro is networked with your entire workgroup and Cloud enabled so anybody in your project team can use it from their smartphone.
Better:
Shadows and unwanted back- ground are suppressed leaving you with crisp, sharp and natural scans – ready to be used in your continued workflow.
Unique technology:
With Contex CleanScan CIS modules, superfast Ethernet and award-winning Nextimage software, Contex IQ Quattro is the leading scanner for technical projects.
The IQ Quattro scanner is the 4th generation CIS scanner from Contex. It is available 24 and 44 inches, and contains proven technology from our CCD range and CIS technology refined to match our customers requirements for high quality, speed and ease of use.
IQ Quattro scanners are ideal for project groups. Scan documents and enhance your files in AutoCAD.
The Contex IQ Quattro 2490 Large Format Scanner Features:
- Fast, crisp and sharp scans of regular and oversized documents
- Fit for multi-site network
- Scan speed up to 14 in / sec in color with Sigma and CFR
- CleanScan - provides leading image quality
- Gigabit Network
- Magnetic document guides
- Using only 0.5W in standby
- Recovery from standby in just 1 second by simply loading the document
- Cloud Enabled
Up to A1/D-size originals
Return guides for easy document handling, by returning documents to the user with rewind through scanner. Return guides are detachable. Magnetic document guides can be used to support long documents and makes precise document loading easier.
Designed for optimal ergonomic working environment. Height adjustable stand in 3 positions.
Contex ClearScan - provides leading quality
With new methods for diffusion you you will get the most natural light in your scans.
More power in every pixel
Contex CleanScan CIS modules with unmatched image quality combined with the award winning Nextimage Software.
PageDrop Enabled
Any PageDrop enabled Contex scanner can send documents directly to your preferred destinations. PageDrop does not require a PC. Instead it simply utilizes your smart phone or tablet to control the process. Load the document, scan the QR code, and send the document directly to your desired destination.
Contex IQ Quattro 2490 Large Format Scanner:
Specifications
Optical Resolution
1200 dpi
Maximum Resolution
9600 dpi
Scan Area
24" (610 mm)
Maximum Image Size 1)
26.6 inch (676 mm)
Scanning Speed (sec.):
200 dpi RGB Color
14 inch/sec
200 dpi Grayscale / Monochrome
14 inch/sec
Total number of Pixels
32400 pixels
CIS Technology 2)
Contex CleanScan
Contex SIGMA 3)
•
Contex CFR 4)
•
Accuracy
0.1% +/- 1 pixel
Data Capture (color/mono)
48-bit / 16-bit
Full 48-bit Data Workflow
Yes
Color Space
Adobe RGB / Device RGB / RAW RGB / sRGB
USB and Gigabit Ethernet with xDTR2
•
Network workflow
Pull / Push
Cloud enabled
•
SmartShare
•
ALE
•
AccuColor
•
Energy Star certified
•
Software 5)
AutoCAD® , MicrostationTM, ArcGIStm and all other CAD, GIS and other image editing / storage applications
Fileformats 6)
TIF, JPG, PDF, PDF/A, DWF, CALS, BMP, JPEG-2000(JP2), JPEG2000 Extended(JPX), TIF-G3, TIF-G4, others
Device Drivers
32 and 64-bit Windows 8, 7 and Vista
Nextimage TWAIN
32-bit TWAIN application driver included for use with EDM and other imaging software
Power Requirements
100 - 240V, 60/50Hz, 23W
Power Consumption
(Ready / Sleep Mode / Scanning)
10W / 0.5W / 18W - ENERGY STAR Certified
Weight and Dimensions
35.5 Ibs. (16.1 kg) / 32.4 x 18.9 x 6.3 inches (82.4 x 48.0 x 16.1 cm)
Certifications/compliance
CE, cUL, Customs Union, VCCI, FCC Class A, RohS and ENERGY STAR Certified
Printer Model: Contex IQ Quattro 2490
Contact Us For Pricing
View Details PDF
"Keep your companies projects on time, all the time with A&A Graphics 100% Printer Uptime Guarantee"
100% Uptime Guarantee
—Purchase any plotter from A&A Graphics and keep it under our warranty. If for any reason we are unable to repair the issue in 8 business hours we will do all your printing, copying & scanning for free until the issue is resolved to the manufacturer's specifications for performance.
The only time a printer breaks is when it is needed the most. As a project manager or business owner you can rest a little easier knowing your bids and projects will not be stalled or delayed by printer downtime. A&A Graphics employs 5 factory trained specialists offering same day support in most cases in the Greater Houston Area. HP, KIP, OCE, GRAPHTEC, XEROX all current models and legacy printers supported. We also have an extensive large wide format printer used parts inventory to assist you with any future repairs you may need.